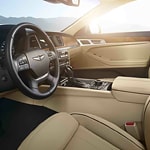 As a popular, luxury midsize sedan, the Genesis G80 is designed to offer both drivers and passengers ample comfort and convenience. From heated and ventilated seating, to a spacious, streamlined cabin, with intuitive, easy-to-access controls, Long Island drivers will love the look, performance, and feel of this vehicle. At Atlantic Auto Group, we're excited to share information on two features that make owning and operating the G80 an amazing experience.
Stay Connected With The Outdoors Via The Panoramic Sunroof
The Genesis G80 cabin has a sleek, strategic design that keeps outside noise out. With the available Panoramic sunroof, however, drivers can stay connected to the world around them with expansive views of the overhead skies. This system can be adjusted and tilted to decrease or increase visibility, and to let the perfect amount of natural light in.
Experience The Convenience Of A Smart Trunk
When your hands are filled with shopping bags or other items, the Genesis G80 will provide you with instant access to your trunk interior. You'll only need to pause by the trunk door for several seconds with your smart key in hand, in your pocket, or in your purse, before the trunk will automatically spring open. To check out the Genesis G80 in-person, come by Atlantic Auto Group today for a test drive.