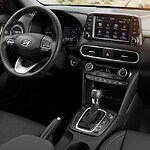 You will really enjoy a small SUV such as the popular Hyundai Kona. Not only it is practical, but it is also a lot of fun to drive around town. It is nimble and able to navigate tight spaces. You will also appreciate the innovative design features that Hyundai has developed for this SUV.
It is helpful to make note of the high-efficiency LED headlights that have been added to the Kona. These are innovative, look sharp, and are helpful for broadening your range of vision as a driver. You will also love the LED Daytime Running Lights and the safety feature that they bring to the vehicle.
The rear brake lights are reconfigured as well. They are now much slimmer and easier to spot in traffic. While they were at it, Hyundai also redesigned the turn signals to make them more visible as well. Take the Hyundai Kona on a test drive today by visiting Atlantic Auto Group.