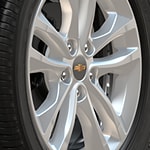 The Chevrolet Malibu is a mid-size vehicle that offers plenty of space inside and numerous technical features that make driving safe and comfortable. A rounded front and rear design give an appearance of gliding on the street in West Islip, NY while also delivering the sophisticated design that is known in the Malibu.
The FWD drivetrain makes it easy to navigate various types of terrain and weather conditions. When exploring the options at Atlantic Auto Group, you'll notice that there are single-exhaust and dual-exhaust options. You'll also be able to choose from wheels sizes that range from 16 inches to 19 inches.
A black grille gives the Chevrolet Malibu a sophisticated design along with chrome details on the exterior of the car. Many of the interior details are the same color as the exterior of the car with chrome accents when possible. A rear spoiler is an option to consider for a sporty design.