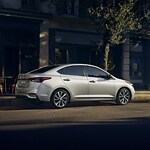 The 2020 Hyundai Accent sells quickly in West Islip, NY. As one of the most popular models of subcompact cars available on the market, we want to provide you with an overview of what this car has in store for you. Read on to find out about our favorite features of the 2020 Hyundai Accent.
If you want a vehicle that's perfect for your daily commute, you'll need to look no further. On average, the vehicle gets between 29 and 33MPG in the city and anywhere from 39 to 41MPG on the highway. The Accent will be a great fit for daily trips.
Drivers who want to take time to enjoy their driving experience are also going to benefit from this vehicle. With a four-cylinder, 120-horsepower engine, you'll be able to handle the speed you need without the excessive bells and whistles. If you think the Accent will be the right car for you, we encourage you to come to Atlantic Auto Group to give it a test drive.